Watch Burj Khalifa sparkle at night or head over to Atlantis as you take an aerial tour of the city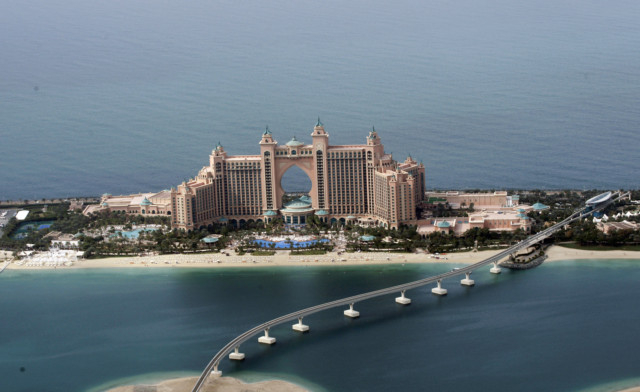 DUBAI You can now view the spectacular vistas of the city – both by day and by night – from a helicopter, thanks to tour operator HeliDubai.
"This is very rare. As far as we know, the only night tours are in New York, Chicago, Las Vegas and Budapest," Larry Pentz, Director of Finance for HeliDubai, told XPRESS.
The 22-minute Night Lights tour operates from the Festival City helipad, which became fully operational on November 1. The night flights, priced at Dh1,095 per person, run from sunset to about 9pm.
"Dubai glistens at night," Pentz said, "the LED technology on the buildings is dynamic and vivid. The Burj Khalifa sparkles. The car lights, especially the red tail lights on the cars, add another dimension of colour."
Day tours include the 12-minute Heritage tour for Dh595, while the 22-minute Explorer is set at Dh895 per person. Both tours start off at Festival City, flying over the creek and its dhows and eventually turning south to Burj Khalifa and Safa Park. The Explorer package continues to the Palm and its villa-adorned fronds, leading to the Atlantis hotel. It then flies along Shaikh Zayed Road and heads back to Festival City.
Helidubai was founded in 2005. It is part of the Royal Flight operations and has flown for many VIPs including the Trumps, Bill Clinton, Collin Farrell and Paris Hilton. The company has lent its rotary blades to filmmakers as well. They were involved with shooting Fast and Furious 7 and Tom Cruise's Mission Impossible 4 in the UAE. "In the past, many movie companies came with their own pilots," Pentz said. "Now, they ask specifically for our pilots."
HeliDubai plans to branch out to other emirates. "But," Pentz said, "we're concentrating on Dubai. We're looking at more tours in the desert and in the Hatta region."
Credits : Gulf News