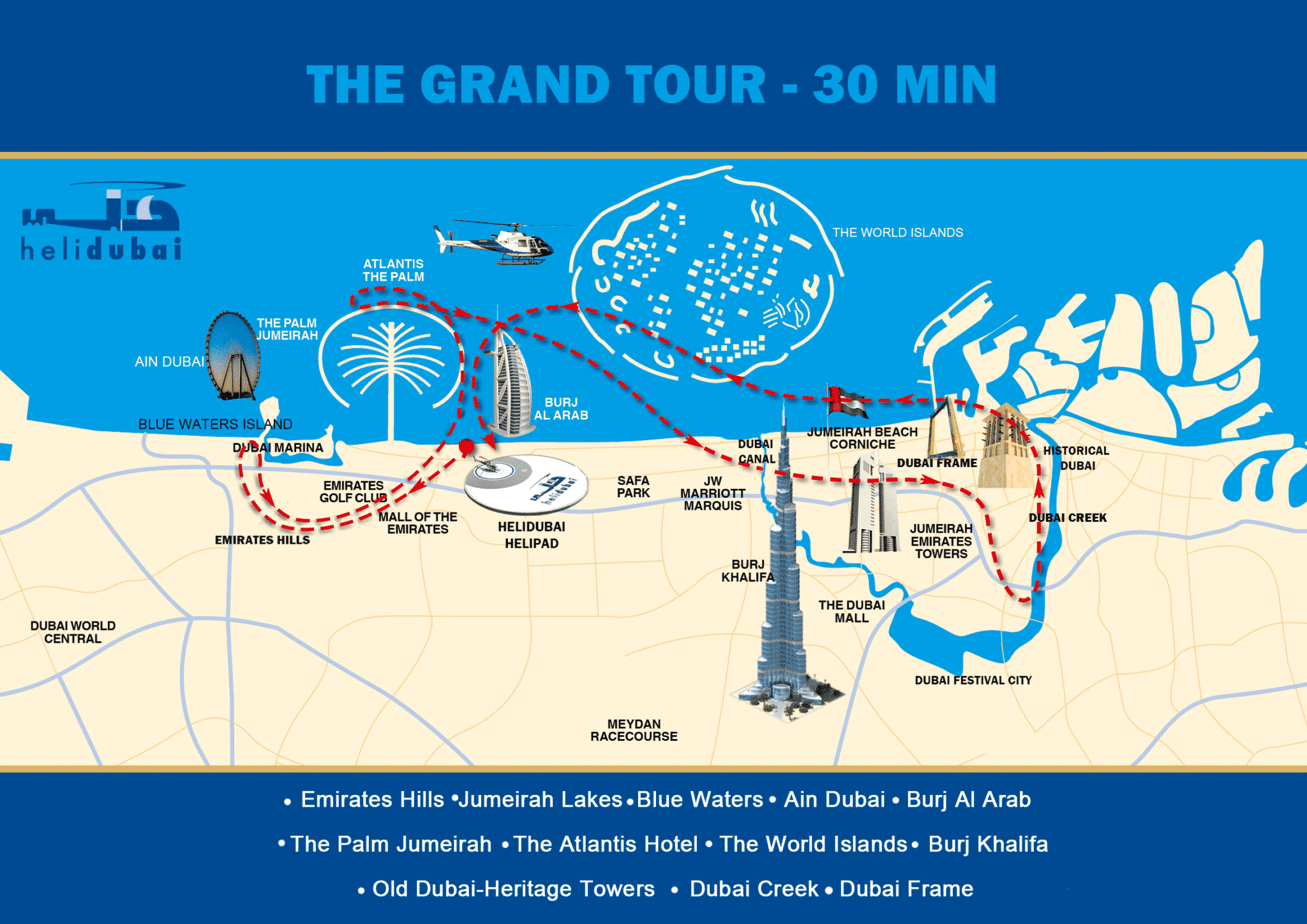 This tour highlights the architectural landmarks as "Ain Dubai" the world's tallest Ferris wheel, Bluewaters Island with its famous Caesars Bluewaters Dubai and Caesars Resort Bluewaters, also offering the view of Emirates Hills, Jumeirah Lakes Towers, Dubai Marina "an artificial canal city", the iconic Burj Al Arab, the Palm Jumeirah. Cruising towards the coast of Jumeirah shoreline, get to see the Sea Horse Island with the luxurious "Bvlgari Resort Dubai" along with the world's tallest building Burj Khalifa and the biggest picture frame "Dubai Frame". The tour includes a glimpse of the famous Dubai Creek, a man-made waterway made for the convenience of trade ships and where the old-style buildings are located that gives a mystic aura to Dubai's rich history.
AED 1607 Per person sharing – (Incl VAT)
AED 6484 Per flight (Up to 5 pax) – (Incl VAT)
Highlights
Emirates Hills

Jumeirah Lakes

Blue Waters

Ain Dubai

Burj Al Arab

The Palm Jumeirah

The Atlantis Hotel

The World Islands

Burj Khalifa

Old Dubai-Heritage Towers

Dubai Creek

Dubai Frame
People Also Searched Below Package
Trusted By Over 1,80,000 Travelers, Worldwide. Since 2005.
I took a short flight over Dubai with my friends and it was a great rush. We saw Dubai Marina, The Palm, Burj Al Arab, Kite Beach, and downtown Dubai. If you want a new view of the City, it's worth the rush of a helicopter ride!

I booked a 12 minutes tour and it was amazing ! The staff is so friendly and helpful. I enjoyed the views so much, Burj Khalifa, Burj al Arab, the palm, world islands etc... It went so fast, felt like just a minute ! I would defiantly do it again 👍🏼
The HeliDubai helicopter flight was the the absolute gemstone of my vacation. It was an amazing 22-minute experience flying over beautiful Dubai. As soon as we landed I immediately wanted to book another flight.
It was a fantastic ride! The staff are friendly and make sure your safety. The view is better than I expected. You don't really need to go to the observation floor of Burj Khalifa since Helidubai will bring you "higher! "

Frequently Asked Questions
Working hours for the helicopter tour?
We fly everyday from 0900 AM to 0530 PM including all public holidays.
Is there any age restrictions?
Our helicopter tours are enjoyable from any age group starting 2yrs.
Can this be book online?
Yes, you can book online via our website 24/7, if you have any further questions, then feel free to call or WhatsApp on +971 50 175 8626
Where is the location for the tour?
We are Inside Dubai Police Academy, Al Sufouh 1, Opposite Mall Of The Emirates, Dubai.
How many passengers are allowed in each flight?
Maximum 5 Passengers are allowed in each flight.
Need our Assistance?
Please call\WhatsApp us:
We would love to see how we can help to make your experience a memorable one with us!