Tips in Dealing with your Kids on a Helicopter Tour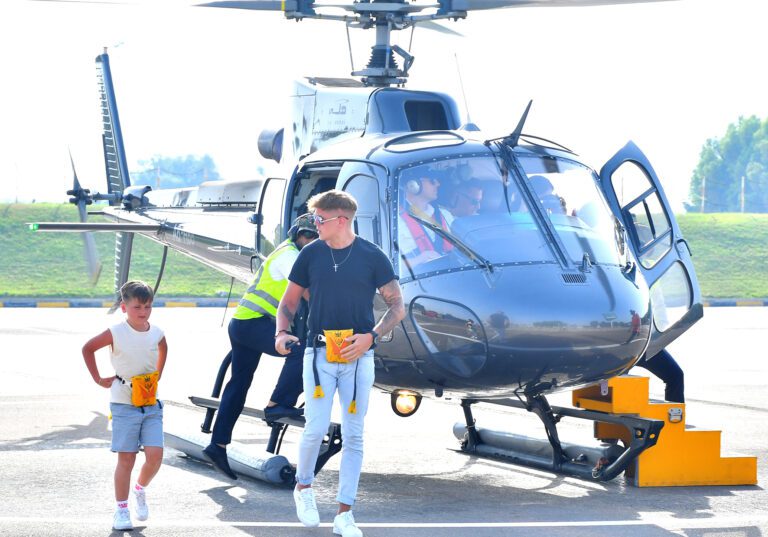 Helicopter tour is definitely one of the top adventures to do in Dubai. A unique experience that doesn't happen to anyone every day. It's like a rollercoaster, but way cooler!
But wait, what about the little adventurers? Kids on a helicopter tour can be a mix of nerves and exhilaration.
As the school bells ring and families flock back to Dubai, here are some ingenious tips to keep your kids smiling and giggling through their helicopter ride journey.
Tip No.1: Pre Fligh t Pep Talk Before you take off.
Sit your kids down for a pre-flight chat. Let them know what to expect – the helicopter's like a big, comfy car that floats in the air! Paint a picture of the adventure ahead, making them feel like they're about to embark on a superhero mission.
Tip No.2: Captain Safety Briefing Safety first, always!
Teach your little co-pilots about the importance of strapping in and following the pilot's instructions. Explain that even superheroes wear seatbelts to stay safe while flying. And remember, the helicopter's magic comes from following these safety rules.
Imagine flying among fluffy clouds that look like cotton candy or spotting buildings that look like tiny toys! To keep nerves at bay, pack a pocketful of distractions. Play a game of 'Cloud Gazing' – challenge your kids to find funny shapes in the clouds or guess which skyscraper is taller. The fun never stops up in the sky!
So there you have it, folks – your ultimate guide to a joy-filled helicopter tour with your mini-adventurers. With a little pre-flight chat, a sprinkle of safety wisdom, and a dash of cloud-gazing excitement, your kids will be grinning from ear to ear. As you fly back to school and back to Dubai, remember, every moment in the sky is a memory that will make your family story soar high.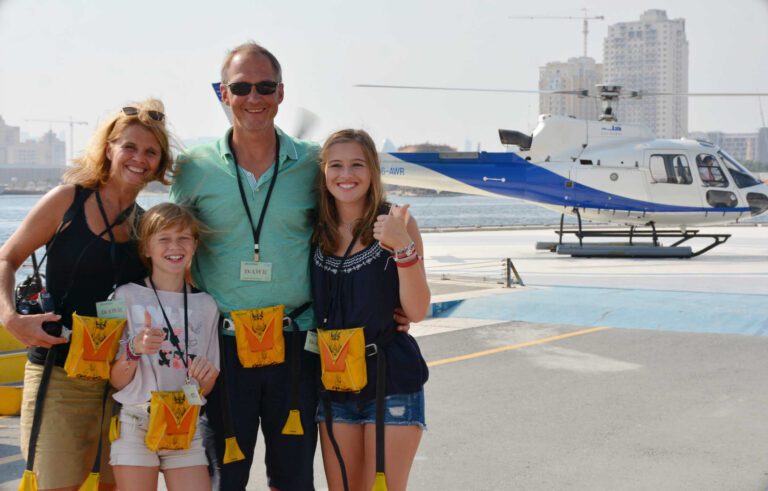 HeliDubai's terms and conditions for young passengers:
Only children above two years of age are allowed to fly and required to purchase a seat but are not permitted to sit on an adult's lap.
Children from 2 years to 12 years old are not allowed to fly alone unless accompanied with guardian.
Learn more: https://helidubai.com/terms-conditions/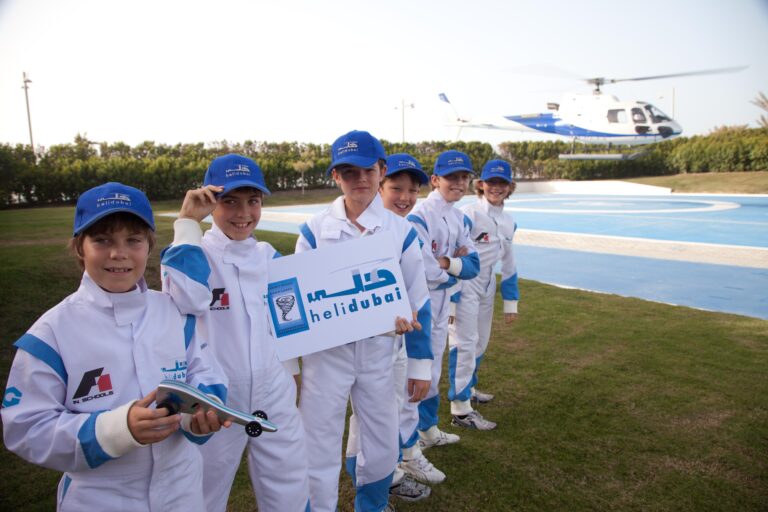 Why HeliDubai? We are the Original. We are the Pioneer.
Looking for a luxurious way to see the stunning sights of Dubai? Look no further than HeliDubai! As the region's premier helicopter services company, we pride ourselves on offering reliable and trusted luxury helicopter flights throughout the United Arab Emirates.
But that's not all! HeliDubai also provides a range of sightseeing helicopter tours that showcase the historical and cultural landmarks that make Dubai so unique. From the amazing Burj Al Arab to the breathtaking The Palm Jumeirah, Atlantis, Royal Atlantis, The World Islands, and famous Burj Khalifa, our tours offer a bird's-eye view of the city's most iconic sights.
Our team of highly experienced pilots and top-of-the-line helicopters ensure that you arrive in style and on time, while our commitment to using the latest equipment for photography has earned us worldwide repute.
So why wait? Try us out today and see for yourself why we're the trusted and reliable choice for helicopter services in the Middle East.
Call: 800 359
WhatsApp: +971 50 175 8626
Email: tours@helidubai.com
Website: www.helidubai.com